Fiction

Only the Wind Remembers - Now available as an e-book!
Available for Kindle and Nook e-readers!
Making peace with the past…Discovering the only love that heals…
Ishi: the last of his tribe, utterly alone in the white man's world. Allison: abandoned as a child, haunted by dreams of a mother whose face she cannot recall.
In 1911, the last Yahi Indian walked out of the woods and into modern civilization for the first time. Driven from a life of hiding, Ishi longs for one thing: to tell a secret tale, a fable of his people that only he knows. Allison Morgan understands how important it is to obey the tenets of propriety, especially when her anthropologist husband is entrusted with the care of the last "Stone Age" Indian in North America. Yet something about Ishi stirs echoes of memories long forgotten, compelling her to defy the rules. Secretly, she learns Ishi's language. And then the tale begins, bringing with it the promise of hope long abandoned. But in the midst of renewed dreams, will a tangle of hidden motives, personal insecurities, and long-masked secrets destroy her once chance to discover the truth?
Based on actual historical events, Only the Wind Remembers invites you to a times when everything was not as it seemed, when a simple tale held the key to hope, when only the wind remembered what it meant to be free.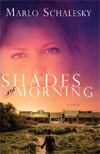 Shades of Morning – RITA finalist and a Romantic Times 4 1/2 Stars Top Pick!
Read the Story Behind the Story!
Announcing the Books & Brew Cuppa Contest Winner
Slips of paper, notes of regret. And a boy who sees through it all.
Marnie has her life just where she wants it. At least that's what she tells herself – her past is hidden, her regrets locked tightly in a box on her shelf, and her bookstore and coffeeshop business is booming.
No one knows what she's done, who she's been. That is, until the man she once loved finds her again and brings startling news – she's now the guardian of her 15-year-old nephew, a boy she never knew existed.
To make matters worse, when the boy arrives, she discovers he has Down syndrome. The past collides with the present, the box of regrets is exposed, and Marnie's world shattered and rebuilt through the love of one special boy who makes all things new.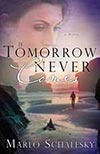 If  Tomorrow Never Comes
Listen to an Audio Interview with Marlo
Get Infertility Advice
They say you should reach for your dreams. This time, they're wrong…
Childhood sweethearts Kinna and Jimmy Henley had simple dreams—marriage, children, a house by the sea…everything they needed for happily ever after. What they didn't plan on was years of infertility, stealing those dreams, crushing their hopes.
Now, all that's left is the memory of young love, and the desperate need for a child to erase the pain. Until…
Kinna rescues an elderly woman from the sea, and the threads of the past, present, and future weave together to reveal the wonder of one final hope. One final chance to follow not their dreams, but God's.
Can they embrace the redemptive power of love before it's too late? Or will their love be washed away like the castles they once built upon the sand? The past whispers to the present. And the future shivers. What if tomorrow never comes?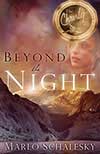 Beyond the Night – A 2009 Christy Award Winner!
Read an Excerpt or scroll down to watch the trailer
Solve the Beyond the Night Puzzle
Go on a Behind the Scenes Video Tour
Read an interview with Marlo about Beyond the Night
A poignant love story… A shocking twist… A love that will not die.
They say love is blind. This time they're right.  In this Nicholas-Sparks-meets-M.-Night-Shymalan story, set to the music of the 70's, we discover two people trying to find love in the dark. A woman losing her sight, a man who loves her but can't tell her so, a car crash, a hospital room, and an ending that has to be experienced to be believed.
Come, see what mystery awaits . . . beyond the night.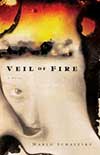 Veil of Fire
Read a sample chapter or download the discussion guide
Read an interview with Marlo about Veil of Fire
Get a custom-signed copy from SignedbytheAuthor.com
A raging firestorm, a light in the hills, and a mystery rises from the ashes…
On September 1, 1894, one of the worst fires in history ravages east central Minnesota. The first firestorm in Minnesota history, it descends on the towns like a red demon, consuming 4 communities over 400 square miles, and killing 418 people in four hours.
In the aftermath, the town rises from the ashes, its people determined to rebuild their lives. But in the shadows, someone is watching. Someone is waiting. Someone who knows the secrets that can free them all.
A rumor begins of a hermit in the hills – a person severely burned, disfigured beyond recognition. Doubts rise. Fear whispers. Is the hermit a monster or a memory? An enemy or a love once-lost?
Based on historical events, Veil of Fire beckons to a time when hope rose from the smoke of sacrifice, when trust hid behind a veil of fear, when dreams were clothed in a mantle of fire.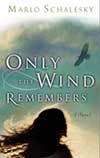 Only the Wind Remembers
Get a custom-signed copy from SignedbytheAuthor.com
Loneliness brings them together. Prejudice drives them apart. But nothing can break the bond forged by a tale as ancient as dreams.
Inspired by the real-life journey of Ishi, the last Yahi, who emerged from the woods, starving and alone, in Oroville, California on August 29, 1911.
Dubbed the last "uncivilized" Indian in North America, Ishi (named for the Yahi word for man), took up residence at the Museum of Anthropology in San Francisco.
To those who knew him, Ishi was more than an exotic curiosity, more than an enigma from days long past. He was a man unlike any other – from a dead culture, with a language all his own, but with a heart that beat with kindness and a love for life. He was unique, and yet he laughed, he loved, he dreamed, he hoped like any other man.
Only the Wind Remembers invites you into Ishi's world, a world where everything is not as it seems, where a simple story holds the key to hope, where only the wind remembers what it means to be free.

Freedom's Shadow (sequel to Cry Freedom)
Get a custom-signed copy from SignedbytheAuthor.com
In 1750′s Colonial America . . .Three lives each chained to the past. Three souls searching for the elusive shadow of freedom.
Leaving his tribe behind, White Wolf finds himself in the midst of a war that echoes the indecision fighting within his own heart. Let go of the anger and fear that are his strength or remain imprisoned by the painful memories? It is a pilgrimage that will take him far from home, but back to his heritage.
As war blazes on American soil, frontiersman Jonathan Grant returns to England to face his own past. There his new faith will be tested to the point of death–and he must decide whether to let his old ways and prejudices bind him again or to walk in the light that will release him.
Driven by revenge, headstrong Annie Hill wants nothing more than to retaliate against the Indians for what they've taken from her. But how far will she go before realizing that vengeance only tightens the shackles on her heart?
Three struggles leading to one truth: only forgiveness will set them free.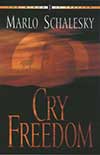 Cry Freedom
Get a custom-signed copy from SignedbytheAuthor.com
In a time of hope and betrayal, some will risk everything to find true freedom.
The year is 1743. In the English colonies a religious revival, which will later be named The Great Awakening, is sweeping through every class of people, drawing the wealthy and common alike into a new and personal experience with God.
But as the American colonists find their peace with God, England and France plot for war, the third of four such conflicts waged by the French and British for control of North America.
On the Pennsylvanian frontier, tensions mount as the Shawnee and Delaware ally with the French. Here the drums of war have already begun to beat. French-led war bands advance. Settlers tremble. Brave men, driven by the hope of freedom, grip their muskets in desperate hands.
And, in the midst of it all, one half-breed Indian girl dreams of what it means to be free.